René Maehr, Ph.D., Associate Professor & Principal Investigator
Dr. Maehr is The Glass Charitable Foundation Term Chair in Diabetes and Associate Professor in the Program in Molecular Medicine. He is also a primary member of the Diabetes Center Of Excellence and affiliated with the Program in Systems Biology, the Bioinformatics & Computational Biology Program, the RNA Therapeutics Institute, and the Immunology & Microbiology Program.
Dr. Maehr received his Diplom from the Albert Ludwig University of Freiburg, and then conducted his graduate thesis in immunology as an international student with Hidde Ploegh at Harvard Medical School where he was supported by a Boehringer Ingelheim pre-doctoral fellowship. He then moved to Harvard University for his postdoctoral studies with Douglas Melton on human pluripotent stem cell differentiation and induced pluripotency. In 2011 he opened his lab at UMass Medical School and is Associate Professor since 2018.

Erica Hennessy, Postdoctoral Fellow
PhD in Biotechnology from Dublin City University, Ireland
BSc in Industrial Biochemistry from University of Limerick, Ireland

Krishna Mohan Parsi, Postdoctoral Fellow
PhD in Cell and Molecular Biology from University of Rome Tor Vergata, Rome, Italy
MSc in Biochemistry from University of Hyderabad, Hyderabad, India
BSc in Forestry from Osmania University, Hyderabad, India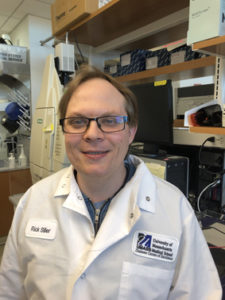 Richard Siller, Postdoctoral Fellow
PhD, University of Oslo, Norway
MRes, University of York
BSc in Biology, University of Michigan

Ryan MJ Genga, Ph.D. candidate
BSc in Biology from College of the Holy Cross, Worcester, USA

Margaret Magaletta, Ph.D. candidate
BSc in Biochemistry & Molecular biology from Rollins College in Orlando, Fl

Eric Kernfeld, Bioinformatician
MSc in Statistics from University of Washington, Seattle, USA
BSc in Mathematics from Tufts University, Medford, USA



Eric's Github page
Maehr Lab Github page

Alyssa Cousineau, Research Associate
MSc in Applied Molecular Biotechnology from UMass Amherst, Amherst, USA
BSc in Biology from Springfiled College, Springfield, USA

Tran Tran, Research Technician

Teagan Parsons, Research Technician